Suzy Chase-Motzkin
Helping People Help Themselves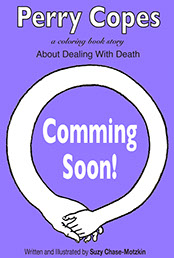 We never really understand what others are going through when they lose a loved one. Whether it is "their time", or not, the woeful separation and following introspection is often difficult to navigate.
Perry Copes is a story that will elicit greater understanding and help people cope with the "loss" of a loved one, or with their own transition.


Perry's Journey is a collection of four illustrated how-to stories from the
Our Life Skills series.
Each story in this collection builds upon the other and maps out essential skills to enhance well-being and positive outcomes.


Featured Books




Offering Creative Workshops Appealing to a Variety of Individuals from Young to Old
Click to View